Lately we've been closing a lot of residential real estate transactions. In New York, residential real estate purchases and sales involve a lot of parties. There are buyers, sellers, each party's lawyer, listing broker, buyer's broker, title companies and lenders, oh my! And because nearly all communication is conducted by email these days, we want to highlight what appears to be a huge increase in attempted wire transfer scams as real estate deals approach their closing dates. Here's what happened to one of our clients last month…
We were representing a buyer who was about to close on her new home. This buyer was out-of-state and had to send money to my escrow account for her expenses and the balance of the purchase price.  Per our office policy, we sent her our wire transfer instructions and confirmed them verbally by phone. With the closing quickly approaching, and numbers still being finalized, there were emails flying among multiple parties. During this time, our client began receiving emails, allegedly from the seller's broker, indicating an earlier closing date and new wire instructions!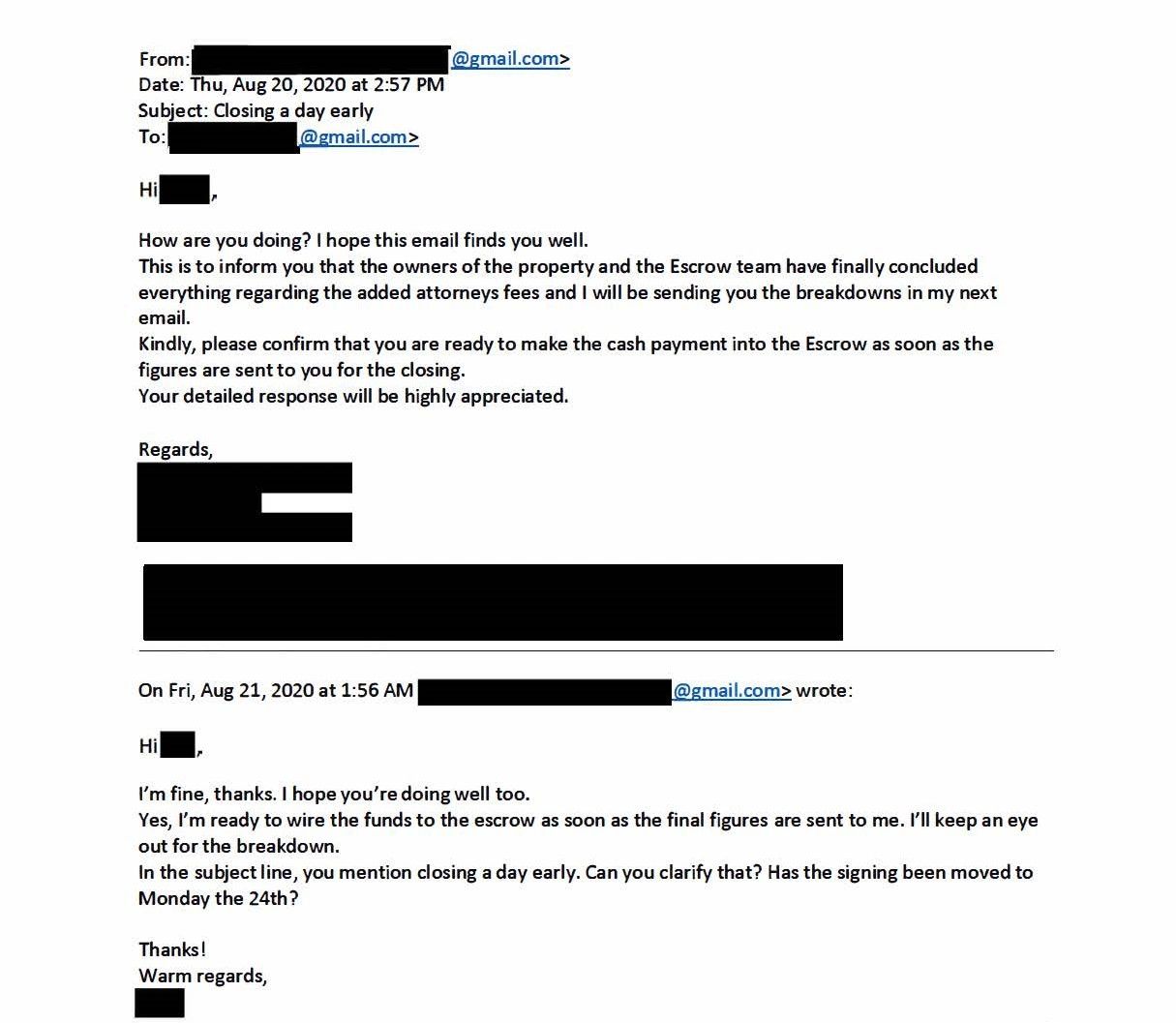 As you can see, the email looks pretty legitimate (redacted to protect the innocent, and guilty…). The seller's realtor's Gmail account had been hacked and her email "spoofed" by whoever had done the hacking. Fortunately, our client was a cautious sort who was great about questioning things she didn't understand. This could have been disastrous for everyone involved–once money is wired to the wrong account, it is most likely lost forever. And in a real estate transaction, that could mean hundreds of thousands of dollars, or more. Gone in an instant!

Frighteningly, the figures the scammer used were only off by a few thousand dollars from the actual amount. Luckily, our client got a bad feeling about this email exchange and picked up the phone to ask me what was going on. Had the scammer been just a little more sophisticated, or the client a little less attentive, she might have missed that it was fraud and been robbed of lot of money. Thankfully, the hacker's response to our client asking about the change in closing date sounded questionable.
Cyberspace predators get more sophisticated every year, as more of our business and personal lives are conducted via the internet. Clearly, these scammers figured out that realtor email accounts are ideally suited for these scams because so many realtors use personal accounts instead of more secure business accounts. The scammers hack in and monitor the account to find a deal with lots of cash and which is closing soon. The days leading up to closing are a great time to catch people off guard, while they are engaged in a flurry of paperwork, funding adjustments, and communications. A perfect time to introduce fraudulent wire instructions.
Thankfully I learned about these scams the easy way—through a Continuing Legal Education (CLE) program given by my "go-to" title company SMPR Title Agency, so I was able to spot it as soon as she told me. Attorneys, brokers, buyers, and sellers must remain vigilant—because, certainly, the scammers are always continuing their illegal educations.
In the meantime, here are a few suggestions based on our experience:
Real estate professionals (and all professionals) should use their own properly secured domain-based emails associated with their businesses rather than Gmail, Yahoo, AOL, etc., which are more vulnerable to large scale hacking.
In our area of New York, closing fund wire instructions are almost always only conveyed by your own attorney, whether to their escrow account or to the account of another. So, when wire information comes from a realtor or any other party, it is a red flag.
Pay attention to the language used in emails. Does it sound like the conversation you've had with your lawyer so far? Or does it sound a little out of character? Is the email from someone with whom you have not had contact to date? It cannot hurt to double check.
Verify ALL wire instructions over the phone with your attorney at the number you usually use to reach them, not the one in the new email. And any change in closing date or wire instructions should also be verbally confirmed.